EXCLUSIVE: स्टिंग में दिखा बिकाऊ है ये दिल्ली पुलिस Delhi Police is ready to take bribe in a sting operation
By
admin
on February 5, 2014
Delhi Police today suspended several of its personnel after they were shown accepting bribes in a sting operation by a private TV news channel.
The policemen shown accepting bribes in the sting have been identified as Inspector Madan Pal, Inspector RS Naruka, Sub-Inspector Anil Kumar, Head Constable Digambar, Giriraj Meena, Sohanveer and Constable Dharamveer.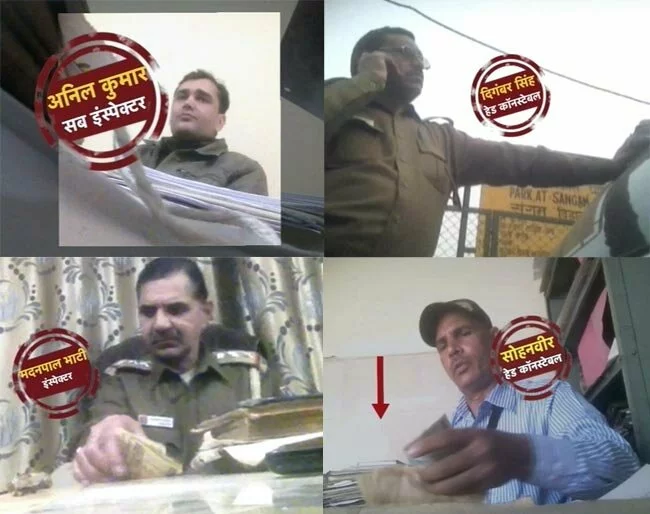 All those shown accepting bribes have been suspended and we are registering corruption cases against them, police said.
Soon after registering a case in this regard, Delhi Police requested the Union Home Ministry to transfer the case to CBI to ensure a fair probe in the matter.
"Upon a request from Delhi Police, Home Ministry has agreed to transfer the case registered in this regard to CBI," said Rajan Bhagat, Public Relations Officer of Delhi Police.
Delhi Police thanked Aaj Tak, the channel which conducted the sting operation, for exposing the alleged instances of corruption.
"Delhi Police is against all such misconduct and condemns the same. It has been our sincere effort to weed out the black sheep from the system. We urge all members of society to provide evidence against such black sheep so that… Delhi Police can serve the people better," he said.
Delhi Chief Minister Arvind Kejriwal also took note of the sting operation and directed the anti-corruption Branch to investigate the matter.
"I have directed our anti-corruption branch to take cognisance and investigate all cases exposed by Aaj Tak," tweeted Kejriwal.
Kejriwal asked the TV channel to provide the copies of the tapes at the earliest.
He also announced that honest policemen would be rewarded as some of the cops shown in the sting operation refused to take bribes.
"We will take strongest possible action against guilty policemen. Will not spare any corrupt. Also, will reward n recognise honest ones (sic)," Kejriwal further tweeted.
Watch EXCLUSIVE Video of Delhi Police taking bribe. This sting operation is done by Aaj Tak News channel on 4 Feb 2014.