50,80,825 people join Arvind Kejriwal's party in 12 days
By
admin
on January 23, 2014
According to AAP, over 50 Lakh people have joined the party from 22 states. One of the first casualties of Aam Aadmi Party's dharna was its first list of candidates for the 2014 Lok Sabha elections which is now expected to be released not before January 25. With most of the parliamentary affairs committee members sitting with chief minister Arvind Kejrwal on dharna, no meetings were possible over Monday and Tuesday. Coupled with that, the party has received over 10,000 application forms which it has not been able to process.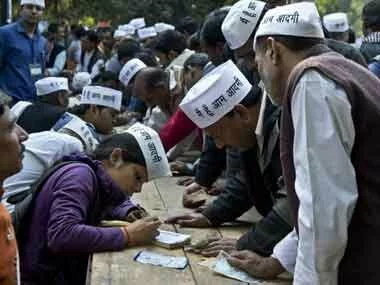 "We have received applications for around 200 seats. Our team has managed to process 2,600 forms while more than 2,000 online applications and over 5,000 hand delivered applications are still to be processed. The party has received most applications from Delhi and around 500 have been processed. By the time we sift through everything we have, Delhi's applications will go up to 1,000," said Pankaj Gupta, the party's national secretary. Stay Tuned for latest and breaking news of Aam Aadmi Party.
The party has also managed to add more than 50 lakh members to its fold since January 10, when it started a special membership drive called 'mein bhi aam aadmi' and waived off its Rs 10 membership fee. In fact, the party was quick to point out that despite criticism on social and news media against their dharna, membership soared on Tuesday.
"From Thursday, we will intensify our movement and add more people to our list. By January 26, we hope to have increased our membership to one crore. We will focus on door to door and organizing camps because we have realized that this is a more effective mechanism. In fact, most of our new members joined the party like this. The figure of 50,80,825 is from 22 states as we have not been able to tap into other states right now," said Gopal Rai, senior party member.
Uttar Pradesh has thrown up the largest number of members, followed by Maharashtra and Madhya Pradesh. Delhi is the single largest city with over 5 lakh members.
However, funding to the party has slowed down considerably. Against a regular Rs 20 lakh plus that the party had been collecting around the new year, the average daily collection has come down to Rs 2.5 lakh. By 9 pm on Wednesday, the day's collection had been Rs 2.69 lakh, taking the total to Rs 6.19 crore. For all AAP funding related news stay tuned here.
"For the past 20 days or so, there has been no concerted effort for fund collection. There have been no special drives either. Our targets are huge and we are setting up teams to take care of local fund collection," said Gupta.