1984 Sikh Genocide Victim Bibi Nirpreet Kaur May Contest Election from Anandpur Sahib
By
admin
on February 7, 2014
Bibi Nirpreet Kaur, a victim of the 1984 Sikh genocide,  might contest the Lok Sabha elections from Anandpur Sahib constituency.  We have learned from internal sources that there have been talks in Delhi about Bibi Nirpreet Kaur officially joining hands with the Aam Aadmi Party in the upcoming elections.  This talk also came up multiple times during the recently held hunger strike of Bhai Iqbal Singh Bhatti at Jantar Mantar which lasted over 50 days.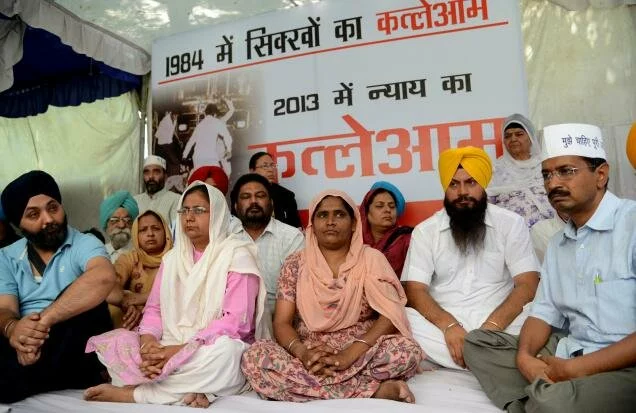 Bibi Kamaldeep Kaur seen with her supporters in Patiala
Anandpur Sahib constituency may turn into a hot seat this year as it is currently in the hands of the India National Congress.  Bhai Balwant Singh Rajoana who is lodged in the Patiala Central Jail had earlier announced he would field an independent candidate from both Anandpur Sahib and Patiala.  At the same time, this particular seat would also be of interest to the Shiromani Akali Dal (B) and the Bhartiya Janta Party nexus as they could potentially take advantage of the new candidates to their benefit.
Bibi Kamaldeep Kaur, sister of Bhai Balwant Singh Rajoana, has been leading election campaigns in Patiala.  However; who will be Bhai Rajoana's candidate from Anandpur Sahib constituency is not yet known.
A number of prominent Sikhs have officially declared to support Arvind Kejriwal's Aam Aadmi Party, however Bibi Kamaldeep Kaur recently lashed out at Delhi's newly appointed Chief Minister for playing in hands of the Congress and indirectly supporting Congress.