Know your neta: Achievements, Awards and honours, Everything about Yogendra Yadav
By
admin
on February 3, 2014
Yogendra Yadav is an active leader of newly form party AAP. Indian academic whose primary interests are in the political and social sciences. He has been a Senior Fellow at the Centre for the Study of Developing Societies (CSDS), Delhi since 2004. He is a former member of University Grants Commission (UGC) and National Advisory Council (NAC) on Right to Education Act (RTE) appointed by United Progressive Alliance (UPA) government.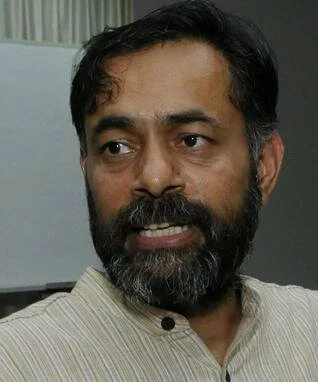 Career
Between 1995-2002, Yadav was the founder-convenor of the Lokniti network. He was also founder-director of the CSDS Lokniti research programme on comparative democracy between 1997 and 2003.Since 1996, he has been a psephologist and political commentator on a number of television channels in India including Doordarshan, NDTV and CNN-IBN. He was appointed as a member of the National Advisory Council for the implementation of the Right to Education Act in 2010.He was appointed a Senior Fellow at the Centre for the Study of Developing Societies in 2004.
In 2011, he took part in the nationwide anti-corruption protests and later joined the Aam Aadmi Party. As of 2013, Yadav is a member of the National Executive of the party.His involvement with the Aam Aadmi Partywas perceived as creating a conflict of interest with his July 2011 appointment as a member of the University Grants Commission, resulting in the Ministry of Human Resource Development retiring him from the latter role in September 2013. Yadav had attempted to argue that there was no conflict.
Academic achievements, awards, and honours
2008 : Malcolm Adiseshiah Award for Development Studies.
2009 : Global South Solidarity Award by The International Political Science Association in recognition of outstanding work on the politics of the developing world".
Publications
Yadav has published many articles and books. He has also acted as an editor and adviser for various publications, such as the European Journal of Political Research, Samayik Varta and the Hindi-language social science anthologies titled Lokchhintan and Lokchintak Granthamala.
Books
State of Democracy in South Asia (2008) co-authored and co-edited (with Sandeep Shastri and K C Suri).
Electoral Politics in Indian States (2009).
Democracy in Multi-national Societies (2010) co-authored with Alfred Stepan and Juan Linz.
Democratic Politics – 1 (2006) Chief Advisor with Suhas Palshikar, published by NCERT.
Democratic Politics – 2 (2006) Chief Advisor with Suhas Palshikar, published by NCERT.
Series edited
Lokchintan Granthamala, a series of anthologies on social science in Hindi (with V. B. Singh), Vani Prakashan, Delhi. Volumes published under this series (edited by Abhay Kumar Dubey):
Loktantra ke saat adhyaya, 2002
Adhunikata ke aine mein Dalit, 2002
Bharat ka Bhoomandalikaran, 2003
Beech Bahas mein Secularwad, 2004,2005
Research articles
Articles published include:
"Between fortuna and virtu: Explaining Congress' Ambiguous Victory in 2009", Economic and Political Weekly, 26 September 2009.
'Rethinking Social Justice', Seminar, September 2009.
Principal State-level Contests and Derivative National Choices: Mapping Electoral Trends in India, 2004-2009, Economic and Political Weekly, February 2009. (with Suhas Palshikar).
"Ten theses on state politics", Seminar, November 2008. (with Suhas Palshikar).
'Editor's introduction' to Electoral Politics, eds. D. L. Sheth and Yogendra Yadav, New Delhi: Sage Publications (with D. L Sheth).
"The paradox of political representation", Seminar, October 2008.
"Democracy Barometers: Surveying South Asia" Journal of Democracy, January 2008. (With Peter R. deSouza and Suhas Palshikar).
"Epilogue: What does fieldwork do in the field of elections?" in A M Shah, The Grassroots of Democracy: Field Studies of Indian Elections, Delhi: Permanent Black, 2007.
"Nation State" or "State Nation"? India in Comparative Perspective in Shankar Bajpai, ed. Democracies and Diversity: India and the American Experience. Delhi and Oxford: Oxford University Press, 2006. (with Alfred Stepan and Juan J. Linz).