AAP News POLL: Should Delhi Police be under the city government?
By
admin
on January 22, 2014
Aam Aadmi Party says both BJP and Congress have also said that Delhi Police should be under Delhi Government.
Chief Minister Arvind Kejriwal's demand that the Delhi government and not the Ministry of Home Affairs (MHA) should be in charge of the Delhi Police, will require legislative action by Parliament.
"The Parliament would need to pass an amendment Bill if Delhi Police is to be put under the charge of the state government. This can't be done through an executive order," an MHA official said.
Arvind
Kejriwal's argument
Arvind Kejriwal says he is the elected representative, so police should report to him and not to the Centre. Says citizens with law and order grievances come to him and not the Union Home Minister or Lieutenant Governor.
Centre has to worry about entire country's internal security and is hard-pressed on concentrating on Delhi. Aam Aadmi Party says both BJP and Congress have also said that Delhi Police should be under Delhi Government.
Kejriwal proposes Centre can retain control over NDMC area and Delhi Cantonment, put the rest of the national capital under him. Sheila Dikshit had proposed the same to the home ministry in her tenure as chief minister.
Kejriwal says Delhi Police is corrupt and compromised primarily as it has no accountability to the CM.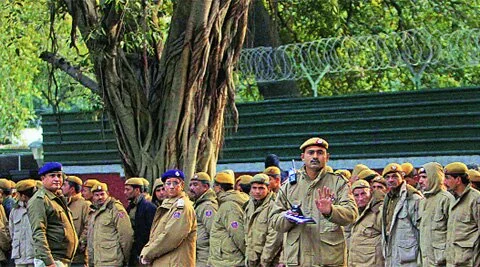 Home Ministry's counter-argument
Even in the US, Washington DC, their capital, has the police reporting to the Federal government. There are vital security issues involved in a national capital so Delhi Police cannot be handed over to Delhi government.
Delhi is also a unique case from constitutional point of view as it does have full statehood status and is essentially a Union Territory (UT). In all UT's in the country, the home ministry has control over the police.
Delhi police may not be accountable to the MLAs but it is accountable to the highest law-making body, the Parliament. Putting it under the Delhi govt could mean unnecessary interference by MLAs in its working. Dividing Police bosses in two parts of the same city could lead to complete chaos.
Delhi police gets a huge budget and considerable autonomy as it is funded by the Centre and not by the state government. Putting it under the latter requires a constitutional amendment and may starve it of funds.