Know your neta: Everything about Arvind Kejriwal
By
admin
on January 25, 2014
Arvind Kejriwal (born 16 August 1968) is the 7th and current Chief Minister of Delhi. Born in Haryana, Kejriwal is a graduate of the Indian Institute of Technology Kharagpur, where he studied mechanical engineering. He worked for the Indian Revenue Service (IRS) as a Joint Commissioner in the Income Tax Department. He is well-known for his efforts to enact and implement the Right to Information (RTI) Act at grassroots level and his role in drafting a proposed Jan Lokpal Bill.
Kejriwal won the Ramon Magsaysay Award for Emergent Leadership in 2006 for his contribution to the enactment of the Right to Information Act. In 2006, after resigning from the IRS, he donated his Magsaysay award money as a corpus fund to found an NGO, Public Cause Research Foundation. In 2012, he launched the Aam Aadmi Party (AAP), and he defeated Chief Minister Sheila Dikshit in her constituency in the 2013 Delhi Legislative Assembly election. Following the election, he took office as Chief Minister of Delhi on 28 December 2013.
Early and personal life
Kejriwal was born in the village of Siwani, Haryana, on 16 August 1968 to Gobind Ram Kejriwal and Gita Devi, a well-educated and well-off couple. He has a younger sister and a brother. His father was an electrical engineer who graduated from the Birla Institute of Technology, Mesra, and whose work led to many changes in the family's residence. Kejriwal spent most of his childhood in north Indian towns such as Sonepat, Ghaziabad and Hisar. He was educated at Campus School in Hisar.
Kejriwal studied mechanical engineering at Indian Institute of Technology Kharagpur and then from 1989 he worked for Tata Steel. He left that job in 1992, having previously taken leave of absence in order to study for the Civil Services Examination, and spent some time in Kolkata, at the Ramakrishna Mission in North-East India and at Nehru Yuva Kendra.
Kejriwal is married to Sunita, who is also an IRS officer and his batchmate from National Academy of Administration in Mussoorie and the National Academy of Direct Taxes in Nagpur. The couple have a daughter and a son. Kejriwal is a vegetarian. He has been practicing Vipassana for many years.
Early career
Kejriwal joined the Indian Revenue Service in 1995 after qualifying through the Civil Services Examination. In 2000, he was granted two years' paid leave to pursue higher education on condition that upon resuming his work he would not resign from the Service for at least three years. Failure to abide by that condition would require him to repay the salary given during the leave period. He rejoined in 2003 and worked for 18 months before taking unpaid leave for 18 months. In February 2006, he resigned from his position as a Joint Commissioner of Income Tax in New Delhi. The Government of India claimed that Kejriwal had violated his original agreement by not working for three years. Kejriwal said that his 18 months of work and 18 months of unpaid absence amounted to the stipulated three year period during which he could not resign and that this was an attempt to malign him due to his involvement with Team Anna, a strand of the Indian anti-corruption movement. The dispute ran for several year until, in 2011, it was resolved when he paid his way out of the Service with the help of loans from friends.
Activism
Parivartan
Kejriwal believes "Change begins with small things". In December 1999, while still in service with the Income Tax Department, he helped found a movement named Parivartan (which means "change"), focused on assisting citizens in navigating income tax, electricity and food ration matters in parts of Delhi. The Parivartan organisation exposed a fake ration card scam in 2008 but, according to a founder member, did not have a great impact generally and was largely moribund by 2012.
Right to Information
Together with Manish Sisodia and Abhinandan Sekhri, Kejriwal established the Public Cause Research Foundation in December 2006, donating the prize money he had received from the Ramon Magsaysay Award as a seed fund. This new body paid the employees of Parivartan.
Kejriwal has used the Right to Information Act in corruption cases in many government departments including the Income Tax Department, the Municipal Corporation of Delhi, the Public Distribution System and the Delhi Electricity Board.
Jan Lokpal Bill
Main article: Jan Lokpal Bill
Kejriwal was the civil society representative member of the committee constituted by the Government of India to draft a Jan Lokpal bill, following a campaign for introduction of such legislation that featured Anna Hazare. He had been arrested for his support of Hazare.
Political career
Kejriwal established the AAP in November 2012 as he believed that electoral politics was the next logical step in the fight against corruption. The party name reflects the phrase Aam Aadmi, or "common man", whose interests Kejriwal proposed to represent.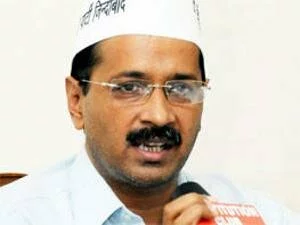 He became one of the five most mentioned Indian politicians on social networking sites such as Facebook and Twitter in the run-up to the Delhi legislative assembly election, 2013. This was the first election contested by the AAP.
Chief Minister
In the Delhi election, Kejriwal defeated incumbent Chief Minister Sheila Dikshit in her constituency of New Delhi by a margin of 25,864 votes. The party as a whole won 28 of the 70 available seats, finishing in second place.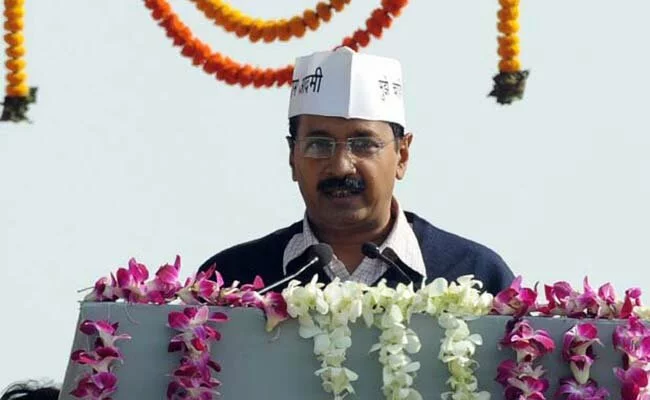 The AAP then announced its intention to form a minority government in the hung parliament, with what Dikshit described as "not unconditional" support from the Indian National Congress. Kejriwal was sworn in as the second-youngest chief minister of Delhi on 28 December 2013, after Chaudhary Brahm Prakash who became chief minister at the age of 34. He is in charge of Delhi's Home Ministry, Power, Planning, Finance, Vigilance ministries.
Anarchist
On January 20, 2014 he described himself as an anarchist and asked his supporters to break the law to protest in New Delhi against the India Government for not suspending three cops from Delhi Police.